84. Rinaldi, John F. THE LLOYD COLLECTION OF NAPOLEONIC PRISONER OF WAR ARTIFACTS. (WITH) THE LLOYD COLLECTION AT UNRESERVED AUCTION. Kennebunkport, (1986) and Kennebunk 1988 b/w and color plates. Two 4to vol. Unpaginated (about 125 pp. each) 257 items pictured, described and annotated. Includes many bone ship models. An excellent reference, with the auction catalog for the sale of those items. Two volumes in stiff wraps. Fine condition. $75
<![if !vml]>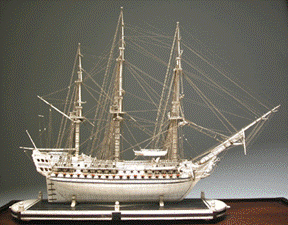 <![endif]>
This prisoner of war ship's model of a 106-gun ship had a planked and pinned hull. This model was featured in John Rinaldi's 1986 book, The Lloyd Collection of Napoleonic Prisoner of War Artifacts. Dating from around 1800, it sold for $87,000. (Rafael Osona Auctions)
Rafael Osona Auctions
PO Box 2607
Nantucket, MA 02584
Phone: 508-228-3942
Fax 508-228-8778
<![if !vml]>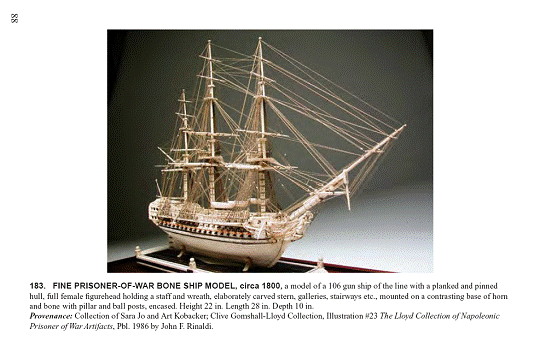 <![endif]>
<![if !vml]>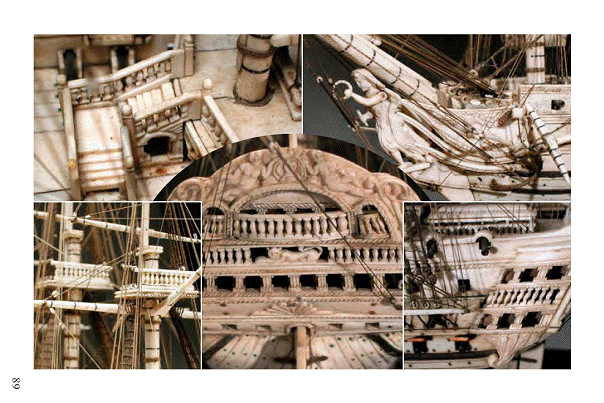 <![endif]>
Napoleonic Model Ships
Made by French Prisoners of War during the Napoleonic Wars, these ships are made of mutton bones riveted with copper wire onto a wooden hull. The bone would have been salvaged from their dustbins and worked with nails sharpened into little chisels. The rigging is made from threads drawn from their shirts.
These models were made by men who may have been craftsmen before joining the French Navy, often on a production line basis with one man making the planking and another doing the fine carving, probably with advice from the English on the technical details of the ships. These prisoners often had other talents, such as the ability to forge £5 notes, thousands of which found their way into Banks in Exeter and Plymouth.
The war with the French, which later became known as the Napoleonic Wars, broke out in 1793 and was fought almost continuously, until 1815. At the height of the war there were 8,000 Frenchmen in Dartmoor Prison alone (a prison built for the purpose of housing French Prisoners of War). In Bideford there was a prisoner of war camp, on the site of which was later to be the gas works, and their skeletons were discovered when the foundations were being laid.
Prisoners were supposed to be maintained by their own governments. Those who were poor, however, suffered acutely under this system, while those with private means managed to live fairly well. Some French officers were even allowed to live in lodgings out of confinement, where it was not unknown for them to marry local girls and settle down. At the other end of the spectrum there were prisoners who lived in nothing but blankets and fought like animals for scraps of food.
The Burton Art Gallery and Museum is located on Kingsley Road, Bideford, adjacent to Victoria Park.
Car parking facilities are available opposite the Burton (short stay) and 100 yards away in Riverbank car park (long stay).
Burton Art Gallery and Museum, Kingsley Road, Bideford, Devon. EX39 2QQ